Monthly Archives:
February 2013
Making Creepy Books

I love old dusty books that look like they came from another time containing forgotten knowledge or secrets. I thought I'd make a few to accent some of the interior decorating this year.
Here's how I make a fun, stylized one. As usual, it's my "instant creative gratification" fast and cheap method. The same process can be expanded on using a variety of different materials. A general note, you could remove the cover for this project and glue back on once done, but I just chose to mask off the interior pages. Click on images to enlarge.
1) I like recycling materials so I used a old water damaged book I had. I traced it's size onto cardboard which was the back of a drawing paper pad. I then sketched out the design.
2) Using a craft knife, I cut out the pieces and simply glued them on the book. I didn't stress over poor cutting, gaps or excess glue as it would all disappear in the next step. Besides, imperfections add to the aged look.
3) For a "old world" bound feel, I cut 4 short strips and wrapped the edge. To create the leather feel, I decoupaged on paper towel sheets (I was lucky here that one sheet perfectly fit). I used a thinned mixture of Mod Podge but white glue and water works great too. I started in the center and over saturating the paper towel worked outwards, mushing into all the nooks and crannies. I wrapped the edges like a present.

4) While it was still wet, I went ahead and painted my base coat and shading so it would bleed and have a washed out look.
5) Once dry, I added highlights with dry brush and colored pencil. I made a title label on the computer and glued it on. The label and page edges were aged using watercolor.
While at it, I thought my sketchbook could use a makeover…

http://davelowe.blogspot.ca/2008/09/halloween-08-making-old-creepy-books.html
Related articles
See on Scoop.it – Writing twirls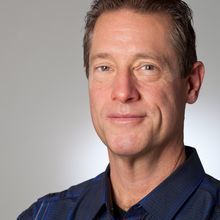 As content takes its rightful place at the forefront of marketing, I'm seeing many marketers fail at basic storytelling.
Marketers are ineffective when they use the classic "customer testimonial" format and pop that onto their blog or make it into a video. "Here's our product. It is great. Here are customers who say it is great. Now buy some of our product." This just doesn't hold people's attention.
How interesting would a book or movie be were it to have this plot?:
Boy meets girl.
They fall in love.
They get married.
That's what most people do with their business writing.
Effective storytelling
The best stories drip with conflict. They have a hero and sometimes a villain. There is a story arc. As a writing teacher once told me: "Writing without conflict is propaganda."
See on www.webinknow.com
I use to do this with my Da… But over the years with all its traumas and dramas, forgot. So happy to stumble over this blog!
Growing Wild
When life gives you lemons, grow trees!
If you've ever seen a flowering lemon tree, you'll understand why. For those of you who haven't, allow me explain. Their lush, dark green, oval leaves have a glossy texture that shimmers in sunlight. Their delicate white flowers bloom with a citrus fragrance and are soft to the touch. Their exotic nature provides an alluring quality. And, finally, they bear the exciting possibility of fruit!
Typically, lemon trees flourish outdoors year-round in hot, sunny regions, but they can also thrive indoors as edible houseplants in cold-season climates. At the organic food store where I work we have a healthy lemon cutting producing massive fruit in a garage setting all year. It makes for an impressive sight during the dead of a Canadian winter!
And while rooting cuttings is a sensible option for fast fruit, lemon tree cuttings are not readily available in many…
View original post 1,002 more words